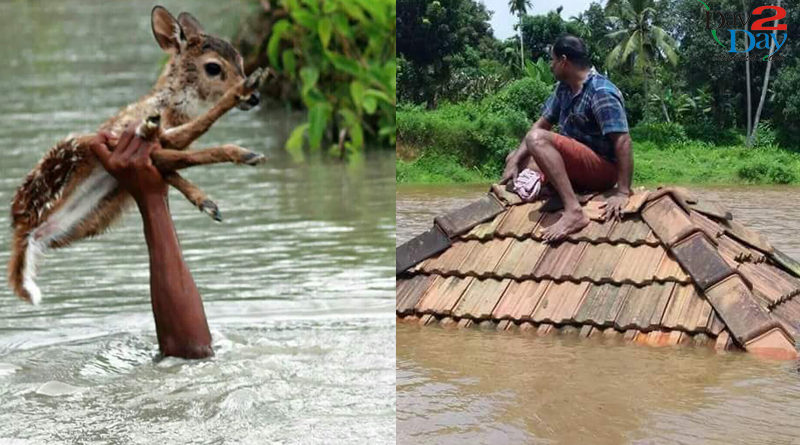 'once-in-a-century' Kerala floods - 2018. Residents of Kerala were reeling from a flood that displaced nearly a million people, caused hundreds of fatalities, and washed away homes. The region started receiving heavy rains on August 8, 2018. People living at present in Kerala have never seen anything like this before when 12 of the 14 districts of the state were simultaneously affected by floods, with 5 of them having been affected most severely.
We reached to small village of Kattoyam town named Vazhapally on 28th Aug morning. Soon after, as we park the ambulance in the village and begin to take the tarps out, a huge crowd gathered to know if we have brought relief supplies for distribution. However, they were equally relieved to know we have come to provide free medical care. People were not only suffering from diseases caused due to flood, I clearly noticed the trauma in their eyes due to loss of their homes and in few cases the loss of their loved ones.
There wasn't a moment the medical and support staff can have rest as more and more patients kept coming in. There were patients of all age groups and to our surprise most of them suffering from high sugar and BP.
We covered 9 villages: Vazhapally, Venmony, Poomkavu, Devanam, Nattaserry, Amayannoor, Panachikkad, Kannimala and Kidangara in 5 days, helped more than 1000 patients and distributed medicines, clothes and few toys that we collected from our friends and relatives to all the villagers. Surely this small effort boosted them to forget this disaster and start a new life again. I guess that's what life is all about. In return the smile on their face was all worth it for. One of the villages tied rakhis to our team out of gratitude.